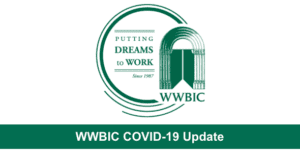 The Wisconsin Women's Business Initiative Corporation (WWBIC) has moved all business and financial educational programming online and on-demand through April due to the impact of the COVID-19 pandemic. The organization has also created special financial assistance options for those affected.
WWBIC offers classes statewide for entrepreneurs, business owners and those looking to improve their financial health. Although classes typically take place in person across Wisconsin, WWBIC has now moved all classes online for April. See the list of available classes here. In addition to their standard offerings, the organization is holding a special class, "Economic Survival in the Age of COVID-19, on April 13 from 1 to 2:30 p.m.
Beyond class offerings, the organization has also created the WWBIC COVID-19 Fast Track Loan Program to help existing businesses looking for financing. Business owners have two options based on their needs: a line of credit or a term loan. In both cases, a minimum of $5,000 and maximum of $10,000 is available. No collateral is needed to qualify. There is a $75 application fee, which can be paid with a credit card, due at the time of application. Interested business owners can visit WWBIC's website to learn more or apply.
The organization has also gathered a list of links for local, state and national partner resources. The organization encourages interested persons to check back often for updates.
WWBIC has provided business and financial education alongside access to fair capital and financial products since 1987. To learn more, visit their website.