Addressing the challenge with creative problem-solving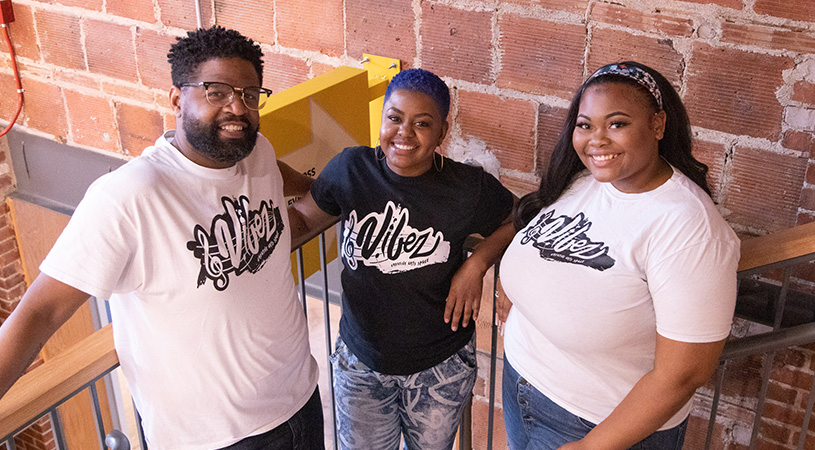 Until the pandemic, Vibez Creative Arts Space in Milwaukee hosted two to three live art sessions every week. When COVID-19 canceled those, owner Chrishella Roché switched her business model to packaging and selling paint-at-home kits. It was a challenge, but she did it—and didn't stop there. Over the last year, she and her small team have come up with multiple ways to let customers recreate both the art and social interaction of the paint-and-sip experience in their homes.
Selling outside the lines
Vibez began promoting their paint-at-home kits on their website and social media about a month into the pandemic. There were several logistical challenges, including finding single-use art supplies and sourcing packaging materials. But trial-and-error is a natural part of the creative process, and Chrishella built her business on creativity.
At first, Chrishella and her team were using plastic wrap to package kits, but eventually she was able to source boxes that neatly fit a canvas and supplies. She considered purchasing pre-packaged paint sets, but to make sure customers had enough to finish their paintings, she determined the best solution was individually portioning out paint in to-go condiment containers.
But a key part of the paint-and-sip experience is the interaction. About three months after closing in-person events, Vibez began hosting virtual painting sessions over Zoom, Facebook Live and Google Meet. In addition to regular advertised sessions open to anyone, Chrishella hosted private painting classes for community groups, school programs and families. The virtual format let her business reach well beyond Milwaukee, to as far away as Kansas City and Abu Dhabi.
Going beyond paint
For Chrishella, Vibez had always been about more than just the paintings. She regularly featured the work of local artists on the walls of her Sherman Phoenix space and worked to make art accessible for families who couldn't afford the cost of a usual session.
That didn't change, even when her studio was closed. She switched sales of local artists' work on her walls to her website. Realizing many families would be looking for kids' activities during the pandemic, she also began offering more affordable craft-at-home kits alongside the paint kits. Vibez hosted drawing lessons on Facebook every Wednesday and free socially distanced painting lessons outdoors in nearby Sherman Park.
"When it comes to using social media for business, traction comes from interaction."
She also got creative with her online offerings, making drink mix kits out of the wine and liquor originally stocked for paint-and-sip parties. Her "date night" kits included a bottle of wine and a link to a curated music playlist…in addition to paint supplies for two.
She also launched something she'd always wanted to do—a monthly wine club. To make the offering unique and support other small businesses, each month's wine is paired with dessert for two from a different local restaurant or bakery.
Staying social while socially distanced
Social media, especially Instagram, is an integral part of Vibez's business. Chrishella uses it to market her business, keep up with trends and, during the pandemic, learn from other paint-and-sip studios on how to package and sell paint-at-home kits.
Though she had to reduce the number of artists she worked with because of the pandemic, Chrishella recognized the importance social media had with everyone stuck at home. So she hired an assistant to help her keep the level of interaction between Vibez and its followers high.
"Traction comes with interaction," she says.
Zhané Mosley, Vibez's social media manager, takes care of scheduling regular posts on Instagram and TikTok. When Chrishella is in front of the camera teaching, Zhané is posting behind-the-scenes photos and responding to comments in real time. All of this has helped Vibez gain followers—all potential customers.
To Sum Up
Business Roadblock
The pandemic meant Chrishella, owner of Vibez Creative Arts Space, could no longer hold in-person art sessions. She needed a solution that would keep business going and still provide the social interaction her sessions offered.
Taking Initiative
Chrishella switched her business model to packaging and selling paint-at-home kits, hosted virtual painting sessions online, sold local artists' work on her website and started a monthly wine club. She also used social media to keep up social interaction with everyone stuck at home.
Results
Finding creative solutions to pivot during the pandemic helped Vibez stay relevant. By utilizing more social media marketing, the team kept people connected and gained potential new customers through increased followers.
Helpful Resources