Raising a glass to loyal customers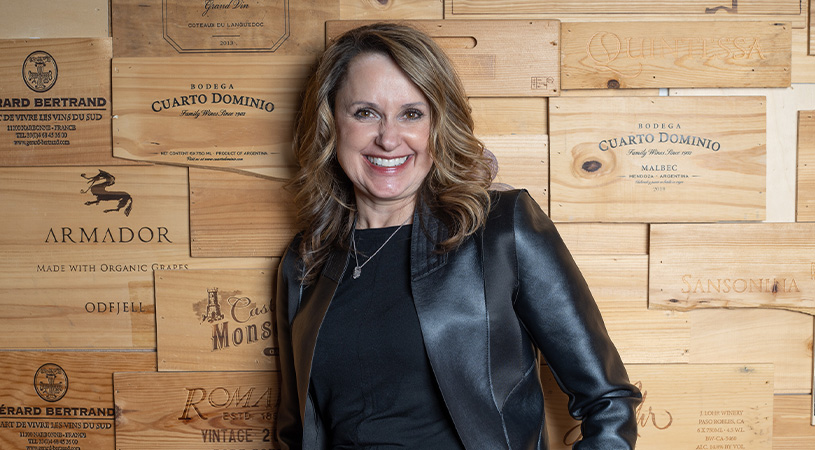 Loreen Glaman, owner of Vino Latte Café, built a loyal and engaged customer base at her gourmet coffee shop, eatery and wine boutiques in central Wisconsin through regular wine tastings and happy hours. Takeout food orders and wine sales kept the business going during the pandemic. But to keep it thriving, Loreen looked for virtual ways to keep the connection with her customers strong.
Opening up to virtual possibilities
Vino Latte's monthly wine tastings were popular events, but their location in central Wisconsin meant that guest experts were usually regional distributor reps, not winemakers themselves. Hosting these events virtually gave Loreen the opportunity to bring in more well-known winemakers from the West Coast and even Chile.
The virtual format also opened up the number of people who could attend. Loreen and her husband Ron, also a wine expert, hosted the tastings on Facebook, so anyone could watch and participate. Because they require less set-up and expense, they held events more frequently, averaging about two tastings a month over the winter.
Making the best of a difficult situation
Despite the advantages, virtual tastings did have some drawbacks compared to in-person ones. Those watching could only interact with Loreen and Ron and the other viewers through Facebook's chat function. Amusingly, watching their on-screen banter prompted a few regulars to post their own videos impersonating Loreen and Ron, earning one couple a guest spot on one of the next livestreams.
Because the livestreams were public, the virtual events didn't provide any direct revenue for Vino Latte. Loreen selected three moderately-priced wines in advance of each tasting, making sure each of her stores had plenty in stock. Customers received a discount if they purchased all three selections. Loreen says she sold, on average, about three cases of each wine featured, which she considers a success.
The importance of distributor support
Investing time and effort in virtual tastings helped keep Vino Latte relevant to loyal customers and even attracted a few new ones.
Loreen plans to transition back to mainly in-person wine tastings, but Vino Latte now has the capabilities to host private, online events and host winemakers from around the globe virtually when the opportunity arises.
For Loreen, the key to getting her business through the pandemic was the strong relationships Vino Latte has built with its loyal customers and wine distributors, many of which she has worked with since starting her business 13 years ago. She was able to reach out to distributors to find winemakers interested in participating, and often distributors reached out with their own suggestions of winemakers they thought would be engaging.
To Sum Up
Business Roadblock
Loreen has built a loyal customer base at her gourmet coffee shop, eatery and wine boutiques over the years. But the pandemic meant finding a new way to stay engaged with them.
Taking Initiative
Rather than rely only on online food orders and wine sales, Loreen and her husband decided to bring wine tastings to their customers, virtually.
Results
With virtual wine tastings, Loreen's customers got to feel some much-needed normalcy, albeit in a new format. Thanks to her distributor connections, she was also able to find new winemakers from around the globe to share their expertise.
Helpful Resources
Ways to Ask Your Network for Help
How to Use Social Media For Networking
Use Social Media to Expand Your Network