Flavor powers international success for Croix Valley Foods
Hudson company taps global markets with spicy products
Croix Valley Foods traces its roots to a small kitchen in Wisconsin's Northwoods, back when the Holter family opened a steakhouse that served up a side of homemade steak sauce that gained local popularity.
After many patrons asked Damon and Lu Holter to bottle and sell the sauce, they decided to give it a whirl. They rented a tiny space at the back of a meat market in Hudson in 2009 and produced three kinds of sauce from the 100-square-foot space.
From those modest beginnings, the Holters today manufacture 44 products in a new facility.
They make sauces, dry rubs, seasonings and Bloody Mary flavor enhancers and have become one of a limited group of small-batch contract packagers in the U.S.
Spreading tastiness around the globe
A big part of the Holters' success has been their ability to tap markets internationally. The pair credits WEDC's guidance and expertise in helping the company find potential in global markets.
Starting in 2018, Croix Valley Foods sold $9,158 of its products internationally, and by 2022, that amount had grown to more than $190,000. Croix Valley's first foray into exporting came with a Canadian buyer; the firm has since done business with a distributor in the Netherlands that handles accounts on Croix Valley's behalf in Slovenia, Italy, the Czech Republic, Belgium, and the Netherlands.
The company also received a WEDC International Market Access Grant that was used to support its European distributor in sponsoring a branded Steak Cookoff Association competition—an event that helped Croix Valley Foods grow its European sales.
Lu Holter completed the ExporTech™ Program at the University of Wisconsin-Stout in 2022. The company also obtained a grant to exhibit at a trade show in Paris and is weighing ideas to boost its profile in Japan, Australia, and Chile.
Much of Croix Valley Foods' market is aimed at barbecue enthusiasts—and having international markets is key to the Holters' success.
"Barbecuing is a kind of cyclical thing," Lu Holter said. "When it's a down season in Wisconsin, it's an up season in Australia."
"The global community we have encountered that has embraced our company and our products is phenomenal and pales only in comparison with the fantastic exporting experts in Wisconsin."
Exporting unlocks local success
Due to growth in sales both domestically and abroad, the company secured financing for a new, 20,000-square-foot facility in Hudson that will allow it to add an estimated 8 to 10 jobs. For the first time, the Holters now work out of an owned, rather than rented, facility.
Croix Valley Foods' international success was recognized with the 2022 Governor's Export Achievement Award.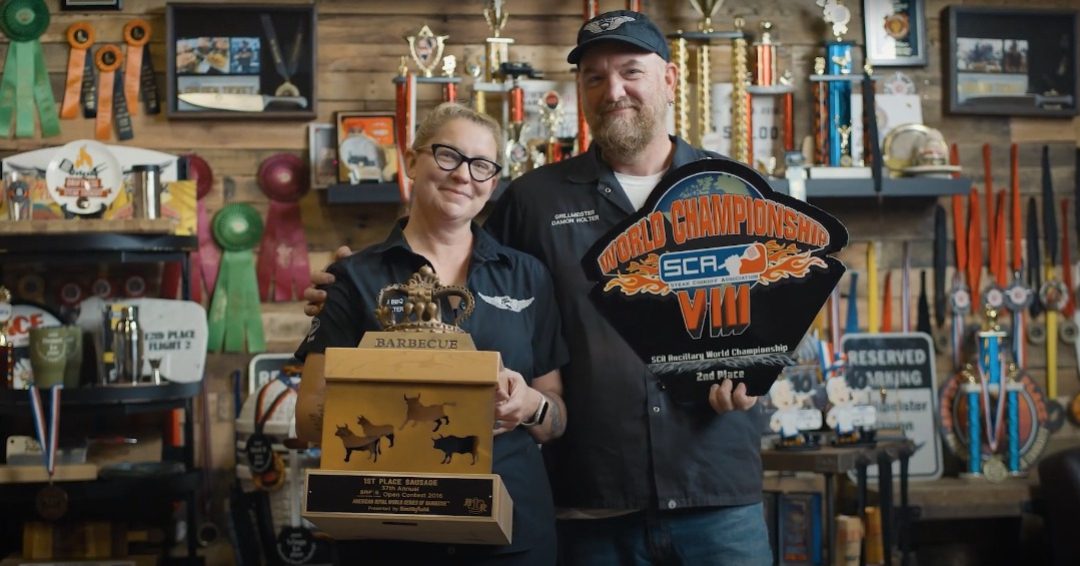 "We are very proud of our business and are very thankful to be a part of a community and state that is so driven to help direct and guide businesses to success in exporting," said Lu Holter. "The global community we have encountered that has embraced our company and our products is phenomenal and pales only in comparison with the fantastic exporting experts in Wisconsin."
Damon Holter said businesses should be enthusiastic about jumping into export markets to fuel their own success.
"I couldn't say it with more passion," said Damon Holter. "To any business owner who would come to me and ask about the benefits of exporting, I would say, 'You have to do it. There is a world of opportunity out there.'"
AT A GLANCE
Company:
Croix Valley Foods
Idea:
Expand global markets for a small company manufacturing sauces, dry rubs, seasonings, and Bloody Mary flavor enhancers largely aimed at barbecuers
State support:
Guidance and support from WEDC global trade experts; International Market Access Grant to build overseas markets; ExporTech™ Program
Results:
Ever-expanding global markets enabling Croix Valley Foods to grow, add jobs, and own its own facility.
Helpful Resources: